LHA
LHA300F Series
Cosel
300W Single Output AC/DC Switch Mode Power Supply
Datasheet

Manual

Declaration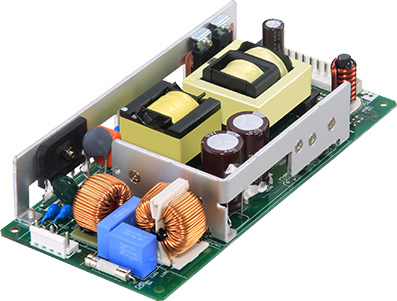 Designed for worldwide applications, the LHA150F and LHA300F have an input voltage range of 85VAC to 264VAC single phase, and conform to the safety standards input voltage range of 100-240VAC (50/60Hz). The 150W LHA150F is available in four output voltages, the 300W LHA300F offers three output voltages. The output voltage can be adjusted by a potentiometer as standard in the LHA300F, and optionally for the LHA150F (option Y). In addition to their optimized switching topology that provides an energy efficiency figure of up to 93.5%, to reduce energy consumption when unit is operating at light loads or in standby the LHA150F and LHA300F automatically switch to an energy saving mode using intermittent pulse modulation. This contributes to excellent performance and high reliability. The power supplies include inrush current protection, over-current protection with automatic recovery when the default is removed, and over-voltage protection. Designed for use in demanding applications where space is often limited, the LHA150F measures 75 X 27 X 160mm (2.95 X 1.07 X 6.30 inches) and weighs 320g. The LHA300F measures 84 X 37 X 180mm (3.31 X 1.46 X 7.09 inches) and weighs in at 580g.
Meets OVCⅢ(EN62477-1)
High efficiency
Small and compact PCB construction
Low-noise
Harmonic attenuator (Complies with IEC61000-3-2)
Universal input (AC85-264V)
Power factor correction.
Model #
Input voltage AC
Input voltage DCnom
(min-max)
Output power
Outputs Vnom (min-max)
Outputs A max
LHA300F-12-Y
110VAC, 230VAC
230 (120 to 340)VDC
300W

Output 1:

12 (10.8 to 13.2)VDC

Output 1:

25A

LHA300F-24-Y
110VAC, 230VAC
230 (120 to 340)VDC
300W

Output 1:

24 (21.6 to 26.4)VDC

Output 1:

12.5A

LHA300F-48-Y
110VAC, 230VAC
230 (120 to 340)VDC
302.4W

Output 1:

48 (43.2 to 52.8)VDC

Output 1:

6.3A
Other products