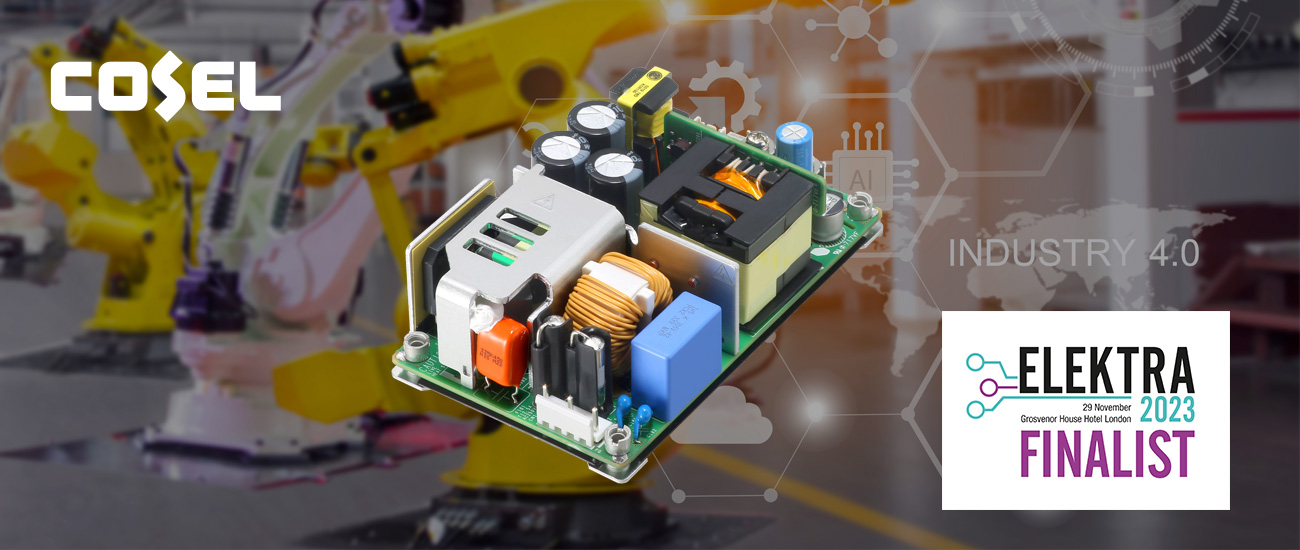 COSEL GHA700F shortlisted in prestigious Elektra awards
Published September 22, 2023
COSEL Co, Ltd (6905: Tokyo) today announced its open-frame high power density, 700W, 3×5 inch power supply optimized for efficient cooling for use in demanding medical and industrial applications has been shortlisted at the prestigious Elektra Awards.
The Elektra Awards are a ceremony where companies and individuals are rewarded and recognized for their excellent performance, innovation and contribution to the global electronics industry. These awards also provide a platform for like-minded and key industry professionals to gather in one place to network, share ideas and celebrate the achievements of the industry. 21 years after its debut, the Elektra Awards still embrace their reputation for being a prestigious and credible awards ceremony and remains an annual highlight in the electronics industry events calendar.
The finalists for the 2023 Awards have now been revealed and we are very pleased to announce that COSEL GHA700F has been shortlisted in the competitive Power System Product of the Year award!
With the growing number of medical applications operating in low noise environments, equipment manufacturers are optimizing equipments to operate with limited airflow. To meet such requirements, power supplies must be design-optimized to combine conduction and convection cooling, offering systems designers the possibility to best optimize the placement of the power supply, without compromising performance. With a long experience in designing optimized power solutions with assisted conduction-convection cooling, COSEL has combined the latest power switching topologies, digital power and energy optimization algorithms, Silicon Carbide and advanced components to minimize power losses, resulting in a high efficiency, lower power dissipation power supply, making it possible to reach a world leading power density up to 31.1W per cubic/inch.
The GHA700F accepts a universal input voltage of 85 to 264VAC, delivers up to 700W in four output versions: 24V/29.2A, 30V/23.3A, 48V/14.6A, 56V/12.5A. For ease, the output voltage can be adjusted using the built-in potentiometer. It includes inrush current limitation, over-current protection with automatic recovery when the fault condition is removed, and over-voltage protection.
The GHA700F can be operated in a wide environmental temperature range of -20 to +70 degrees centigrade ambient or up to +80 degrees centigrade chassis. Depending on the final equipment assembly style and cooling conditions, a derating may apply.
The power supply includes an active power factor corrector with a coefficient of up to 0.95. The switching topology and power components have been thoroughly selected to offer the highest efficiency, reaching up to 96% in all versions.
The GHA700F has a 4,000VAC (2MOPP) input to output isolation voltage, 2,000VAC (1MOPP) input to Frame Ground (FG) and 1,500VAC (1MOPP) output to FG. In the case of the Body Floating application, patient leakage current must be less than 100 microamperes, which the GHA700F is fully compliant with.
Addressing both medical and industrial applications, the GHA700F has received the following agency approvals: UL62368-1, EN62368-1, c-UL (equivalent to CAN/CSA-C22.2 No.62368-1), ANSI/AAMI ES60601-1, EN60601-1 3rd, c-UL (equivalent to CAN/CSA-C22.2 No.60601-1) and complies with IEC60601-1-2 4th Edition and EN61558-2-16 (OVC III).
In conducted emission tests, the GHA700F complies with the FCC-B, VCCI-B, CISPR32-B, EN55011-B and EN55032-B. For even further improved noise performance COSEL offers EMI/EMC filters type EAC-16-472.
To accommodate application specific requirements, five options are available including: conformal coating (C), a set of sub-features including isolated 5V and 12V auxiliary output – Remote Control – Power Good (R3), M3 threaded mounting hole (T3), connection of an external hold-up time extension unit (U1) and for applications requiring additional safety the GHA700F is available with a reinforced isolation in compliance with the IEC class II (E).
The GHA700F measures 76.2 x 38.1 x 127mm [3.0 x 1.5 x 5.0 inches] (W x H x D) and weighs 570g maximum.
The 700W GHA700F is the third model in COSEL's GHA series that includes the 300W GHA300F and the 500W GHA500F.
The combination of high isolation, low leakage current and high quality make the GHA series an ideal power solution for demanding applications not only in the medical field but also for test and measurement, and industrial applications including household and similar electrical appliances.
The GHA700F has a five-year warranty and conforms to the European RoHS and Low Voltage Directives.
Related link:
https://www.prbx.com/product/gha700f/
Link to Cosel Europe product page:
https://www.coseleurope.eu/Products/AC-DC/GHA
About the Elektra Awards
The Elektra European Electronics Industry Awards are the high point of the year for the European electronics industry. Established as the best promotional platform to celebrate the achievements of individuals and companies across Europe, they present best practice in key areas including, innovation, sales growth and employee motivation. Our industry will get together to showcase the finest new products, technology innovation and company performances of the year. An independent panel of judges has assessed the quality of all entries and the winners will be announced at the Awards Ceremony that will take place on the evening of Wednesday 29 November at Grosvenor House Hotel, London
https://www.elektraawards.co.uk/
About COSEL:
Established in Japan 1969, COSEL is one of the world's leading designers and manufacturers of high performance AC-DC Power Supplies, DC-DC Converters and EMI Filters. With quality, reliability & flexibility as our main focus, we pride ourselves on developing some of the highest quality and most reliable products seen anywhere in the world today. The Cosel Group is a $255 million global company employing some 710 staff with sales offices throughout Japan, Asia, Europe and North America. Our product range is aimed mostly at demanding applications within the Industrial, Factory Automation, Medical, Telecoms, Lighting, Audio/Broadcast & Renewable Energy sectors. A flexible approach with full in-house design means we deliver products using the very latest technology meeting the growing demands of our customers.
Note to the Editors:
The Cosel Group includes the European power specialist Powerbox International AB, which has been acquired June 25, 2018 by COSEL.
For more information contact:
Press and media relations
Patrick Le Fèvre
Phone: +46 (0) 158 703 00
Sales and technical requests
COSEL EUROPE GmbH
Lurgiallee 6-8, 60439 Frankfurt am Main, Germany
https://www.coseleurope.eu
TEL: +49-69-95-0079-0
FAX: +49-69-50-8302-00
E-mail: sales@coseleurope.eu
Reference :
COSEL PR-23:005_GHA700F_Elektra-Awards-Finalist_EN
Contacts us