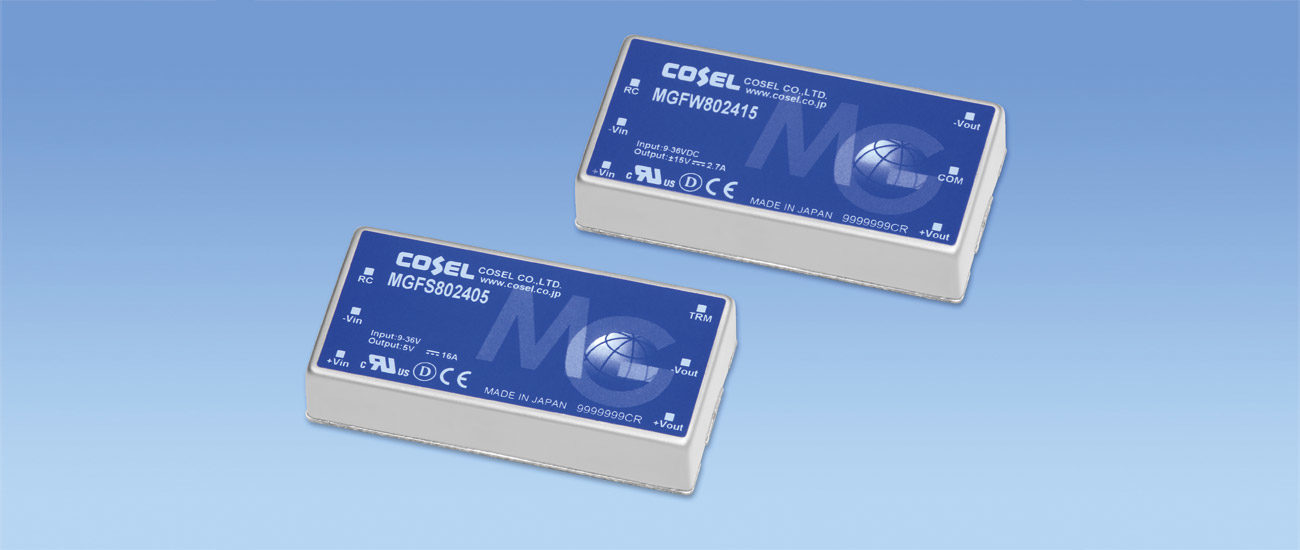 For use in demanding applications, COSEL's very high reliability 80W DC/DC converter comes with 10 year warranty
Published September 3, 2019
10 year warranty
80W in 2×1 inch industry footprint, metal case potted
Soft switching, synchronous rectification and efficiency up to 94%
Ultra wide input voltage range (4:1) covered by two series from 9V to 76V
Approved to UL62368-1, C-UL [CSA62368-1) and EN62368-1
Cosel Co, Ltd (6905: Tokyo) today announced the release of a very high reliability 80W DC/DC converter, the MGF80. Packaged in an industry standard 2×1 inch, six sided, shielded metallic case, the MGF80 series has been designed to Cosel's strict criteria for high performance and reliability, contributing to the company's world class quality with a failure rate of below 30 parts-per-million (ppm). All components are selected for a very long lifetime, making the MGF80 one of the most reliable DC/DC converters in its category. Accordingly, Cosel backs up the MGF80 series with a long, confidence inspiring warranty period of 10 years. To guarantee lifetime quality, the MGF80 does not include aluminum or tantalum capacitors.
Addressing a large range of demanding applications, the MGF80 series is available in two input voltages, 9V to 36V and 18V to 76V. A single output version, the MGFS80 is available in four output voltages, 3.3, 5, 12, and 15V, and can be adjusted within a range of +/- 10% using a resistor bridge or potentiometer. A dual output version, the MGFW80 is available in two, factory trimmed output voltages, +/- 12V and +/- 15V, offering the possibility to provide respectively, 24V and 30V between the two ends.
Thanks to synchronous rectification and soft-switching technology, the MGF80 series' efficiency is a high 94% typical. All models deliver an available power level of up to 81.6W, but to maintain high performance the output power of the 3.3V MGFS80243R3 is limited to 59.4W.
Designed to power demanding applications, the MGF80 series features a wide operating temperature range of -40 to +85 degrees C with a maximum case temperature of +110 degrees C. The MGF80 includes overcurrent and overvoltage protection, and to protect against overheating it includes thermal protection that switches the unit off when the maximum allowable safe temperature is reached.
Built with robustness in mind, the rugged MGF80 series has been tested to sustain rough conditions and has passed three axis vibration testing equivalent to 10G and shock testing of 50G.
Housed in a six sided, brass, nickel plated housing measuring an industry standard 50.8 x 25.4 x 9.9 mm (2 x 1 x 0.39 inch), the unit uses lead-free plated copper pins. Weight is just 50 grams.
The MGF80 series has an input-output isolation of 1500VDC, and an input and output to case isolation of 1000VDC. It is UL62368-1, C-UL [CSA62368-1) and EN62368-1 approved and CE mark 2014/35/EU. The MGFS80 and MGFW80 are RoHS compliant.
Combining high reliability, low conducted and radiated emission levels, high power performance levels and a wide range of products able to power from 9V up to 76V, the MGF80 series is the ideal power solution for industrial, IoT, mobile equipment and especially in demanding applications.
For lower power requirements in demanding applications, COSEL offers the 1×1 inch, high power density, 40W MGF40, as well as a wide range of high reliability, single-in-line, DC/DC converters.
Related links:
MGFS80: www.prbx.com/product/mgfs80-series/
MGFW80: www.prbx.com/product/mgfw80-series/
Link to Cosel Europe product page:
MGFS: www.coseleurope.eu/Products/DC-DC/MGFS
MGFW: www.coseleurope.eu/Products/DC-DC/MGFW
About Cosel:
Established in Japan 1969, COSEL is one of the world's leading designers and manufacturers of high performance AC-DC Power Supplies, DC-DC Converters and EMI Filters. With quality, reliability & flexibility as our main focus, we pride ourselves on developing some of the highest quality and most reliable products seen anywhere in the world today. The Cosel Group is a $253m global company employing some 810 staff with sales offices throughout Japan, Asia, Europe and North America. Our product range is aimed mostly at demanding applications within the Industrial, Factory Automation, Medical, Telecoms, Lighting, Audio/Broadcast & Renewable Energy sectors. A flexible approach with full in-house design means we deliver products using the very latest technology meeting the growing demands of our customers.
Note to the Editors:
The Cosel Group includes the European power specialist Powerbox International AB, which has been acquired June 25, 2018 by COSEL.
For more information contact:
Press and media relations
Visit www.prbx.com
Please contact Patrick Le Fèvre, Chief Marketing and Communications Officer
+46 (0) 158 703 00
Sales and technical requests
COSEL EUROPE GmbH
Berner Straβe 53, 60437 Frankfurt am Main, Germany
https://www.coseleurope.eu
TEL: +49-69-95-0079-0
FAX: +49-69-50-8302-00
Contact us

Reference :
COSEL PR-19:004-EN-MGF80
Download as PDF:
190903_cosel_80w_dcdc_mgf-x80_PRBX_PR.pdf (In English)
190903_cosel_80w_dcdc_mgf-x80_SW_PR.pdf (In Swedish)
190903_cosel_80w_dcdc_mgf-x80_SP_PR.pdf (In Spanish)
190903_cosel_80w_dcdc_mgf-x80_NO_PR.pdf (In Norwegian)
190903_cosel_80w_dcdc_mgf-x80_IT_PR.pdf (In Italian)
190903_cosel_80w_dcdc_mgf-x80_FR_PR.pdf (In French)
190903_cosel_80w_dcdc_mgf-x80_CN_PR.pdf (In Chinese)
190903_cosel_80w_dcdc_mgf-x80_DK_PR.pdf (In Danish)
190903_cosel_80w_dcdc_mgf-x80_DE_PR.pdf (In German)