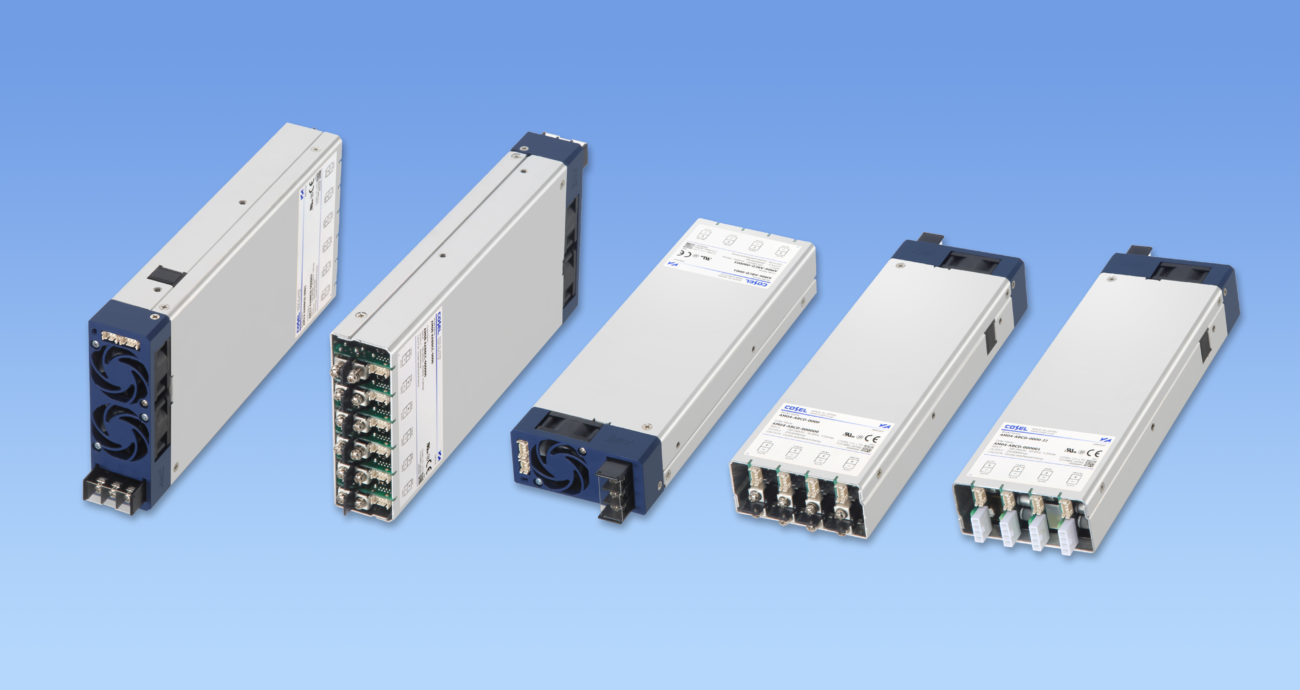 COSEL's configurable power supplies shorten time to market for medical applications
Published September 11, 2019
Flexible, modular system architecture provides various output configurations
Low profile (41mm, 1.61inch = 1U height)
Universal input (85-264VAC)
Medical Isolation Grade 2MOPP
Safety approvals 60601-1 and 62368-1
Output current and voltage can be controlled by analog signal
5 year warranty
Cosel Co, Ltd (6905: Tokyo) today announced a complete line up of configurable power supplies for medical applications, the AME series. Based on COSEL's digital power expertize and optimized topology for high efficiency, the AME series comprises of four models, AME400F, AME600F, AME800F and the AME1200F, together covering applications from 400W to 1200W. Each version can host independent output modules that can be combined and mixed to offer a unique configuration as required by the application. To perfectly optimize configuration to customers' requirements, two versions of output modules are offered, 120W and 240W. Both modules are available in four output voltages, +5V, +12V, +24V and +48V. Designed for demanding medical applications, the AME series input/output isolation complies with 2MOPP requirements.
The AME modular concept is extremely flexible. Each module performs as a standalone power unit, and control and monitoring functions can be accessed via a single connector. The 240W module includes ON/OFF remote control, alarm signals, voltage sensing, output voltage and current control. Output voltage can be adjusted by using the built-in potentiometer or an external voltage. When using external voltage control, the output voltage can be trimmed down to almost zero volts. By using the current trimming function (ITRM) the module can operate as a constant current source. Also, by combining voltage and current control (VTRM and ITRM) it simply works as a constant voltage / constant current (CVCC) generator.
With 24V and 48V outputs and equipped with the 240W module the AME series has a built-in peak current capability suitable for medical applications such as laser or pulse generator duties. Thanks to COSEL technology, higher voltages can be achieved by connecting modules in series, and for greater total power they can also be connected in parallel.
Designed for less demanding control applications, the 120W interface is limited to remote ON/OFF and alarm. All modules include over-voltage and over-current protection with automatic recovery.
As standard, power output connectors are screw terminals, though certain applications may require isolated terminations or quick connect types. For these, a Molex connector is provided instead of the terminal block.
The master host unit includes noise filter, inrush current limiter, primary protection and an auxiliary output of 5V/1A, with 12V optional. A main alarm and a global inhibit is also included in the master host unit making it possible to monitor the complete power supply. To guarantee optimum functionality, a force cooled, blow-in Smart-Fan is built into the host unit. To reduce noise to the lowest possible level, conserve power and to guarantee optimum performance at all temperatures, the Smart-Fan automatically adjusts its speed to provide the required airflow.
The AME400F and AME600F support four output slots, and the AME800F and AME1200F six slots.
With its medical focus, AME series' input to output isolation complies with 2MOPP and its input to ground with 1MOPP. AME is approved in accordance with UL62368-1, C-UL (CAN/CSA-C22.2 No.62368-1), EN62368-1, ANSI/AAMI ES60601-1, C-UL (CAN/CSA-C22.2 No.60601-1), EN60601-1 3rd edition, and it complies with IEC60601-1-2 4th Edition.
In conducted emission tests the AME series complies with the FCC-B, CISPR11-B, CISPR32-B, EN55011-B, EN55032-B, VCCI-B. For applications requiring even lower emission levels an additional filter type COSEL NAC can be supplied.
Designed to power demanding applications where space can often be limited, the AME series is housed in a low profile case. The AME400F and AME600F measure 89 X 41 X 257mm (3.50 X 1.61 X 10.12 inches) and the AME800F and AME1200F 127 X 41 X 257mm (5.00X1.61 X10.12 inches).
To accommodate a large range of applications and to simplify product implementation, the AME series includes a range of options, accessories and a configuration tool. It complies with the RoHS directive and is CE marked in accordance with the Low Voltage Directive.
Related links:
AME400F : www.prbx.com/product/ame400f/
AME600F : www.prbx.com/product/ame600f/
AME800F : www.prbx.com/product/ame800f/
AME1200F : www.prbx.com/product/ame1200f/
Link to Cosel Europe product page:
www.coseleurope.eu/Products/AC-DC/AME
About Cosel:
Established in Japan 1969, COSEL is one of the world's leading designers and manufacturers of high performance AC-DC Power Supplies, DC-DC Converters and EMI Filters. With quality, reliability & flexibility as our main focus, we pride ourselves on developing some of the highest quality and most reliable products seen anywhere in the world today. The Cosel Group is a $253m global company employing some 810 staff with sales offices throughout Japan, Asia, Europe and North America. Our product range is aimed mostly at demanding applications within the Industrial, Factory Automation, Medical, Telecoms, Lighting, Audio/Broadcast & Renewable Energy sectors. A flexible approach with full in-house design means we deliver products using the very latest technology meeting the growing demands of our customers.
Note to the Editors:
The Cosel Group includes the European power specialist Powerbox International AB, which has been acquired June 25, 2018 by COSEL.
For more information contact:
Press and media relations
Please contact Patrick Le Fèvre,
+46 (0) 158 703 00
Sales and technical requests
COSEL EUROPE GmbH
Berner Straβe 53, 60437 Frankfurt am Main, Germany
https://www.coseleurope.eu
TEL: +49-69-95-0079-0
FAX: +49-69-50-8302-00
Contact us

Reference :
COSEL PR-19:005_EN_EUROPE_AME
Download as PDF:
190911_COSEL-PRBX-version_AME_EN_PR.pdf (In English)
190911_COSEL-EUROPE_AME_ES_PR_Final.pdf (In Spanish)
190911_COSEL-EUROPE_AME_DE_PR_Final.pdf (In German)
190911_COSEL-EUROPE_AME_SW_PR_Final.pdf (In Swedish)
190911_COSEL-EUROPE_AME_FR_PR_Final.pdf (In French)
190911_COSEL-ASIA_AME_CN_PR_Final.pdf (In Chinese)
190911_COSEL-EUROPE_AME_NO_PR_Final.pdf (In Norwegian)
190911_COSEL-EUROPE_AME_DK_PR_Final.pdf (In Danish)
190911_COSEL-EUROPE_AME_IT_PR_Final.pdf (In Italian)