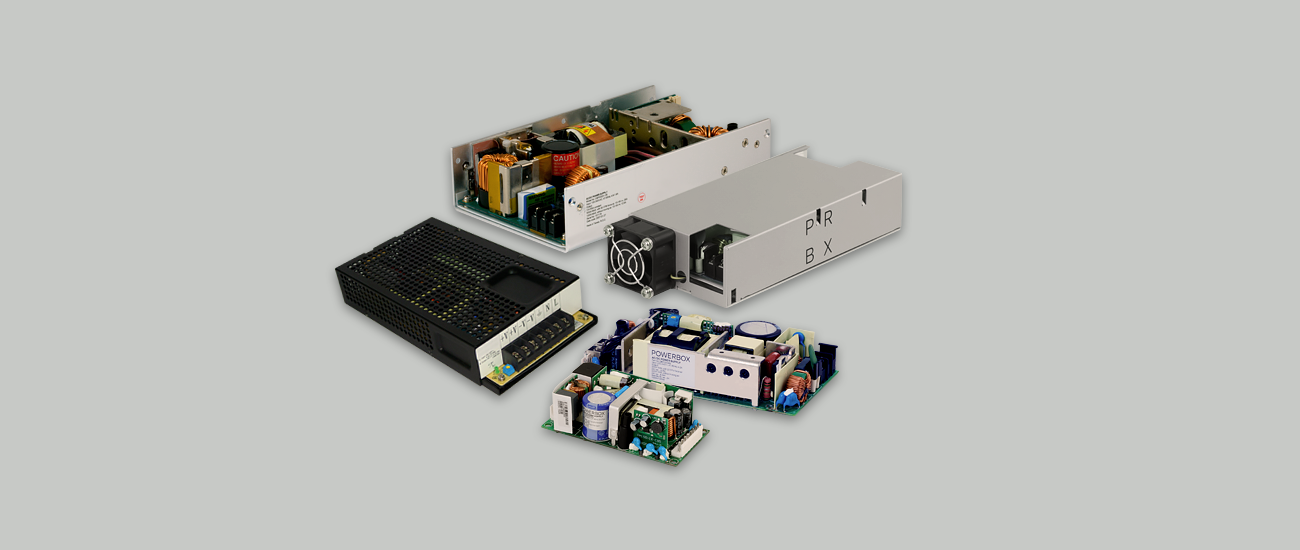 New high performance power supplies powering industrial applications of the future
Published October 22, 2015
Powerbox, one of Europe's largest power supply companies and for more than four decades, a leading force in optimizing power solutions for demanding applications, introduces its new Industrial Line of standard AC/DC power supplies. With over 200+ products covering a wide span in power, output voltages, mechanical format and cooling options, the Industrial Line of products is a comprehensive product portfolio, aimed at some of the most demanding applications in electronics.
This new line complements the company's well reputed custom power solution capability, widening the range to cover a vast variety of applications and requirements. The line comprises single, dual and multiple output converters in the power range from 150 to 650W. Mechanical formats includes open frame, U-channel, enclosed and a version offering full power at natural convection with -20 to +50ºC operating temperature.
"The industrial segment, with applications like ICT, automation, building control, test and measurement, etc. is very wide" says Martin Fredmark, VP Product Management, "but there are substantial similarities in what customers are requiring. For example high power density and low heat generation, making integration in applications simpler, are often prerequisites in most designs these days. Fulfilling standards that affect where the products can be used is also essential, as is high reliability and good support in the field. And of course we need to ensure we help customers meet their marketplace requirements with environmental considerations and low energy consumption. The new Powerbox Industrial Line range of power supplies have been designed to address all these pertinent issues."
The single output converters utilise an LLC half bridge topology, for many of the units, complemented by synchronous rectification, where the rectifier output diodes are replaced by MOSFETs. These technologies contribute to characteristics such as high efficiency (up to 93%), high energy density, high peak output current, and superior EMI performance meeting and surpassing EN55022B.
Other Industrial Line characteristics include wide input voltage range, low no-load consumption and high MTBF. All units have PFC and meet EN61000-3-2 class D. The low no-load consumption in combination with the high efficiency offer an environmental friendly energy profile. With its advanced technology and high performance the Industrial Line is the optimal power solution for most industrial applications.
New industrial line 150-650
Industrial line 150 – OBM33
Industrial line 200 – OBM35
Industrial line 200 – OBN34
Industrial line 300 – OBP36
Industrial line 300 – OBP37
Industrial line 400 – OBP38
Industrial line 450 – OBQ39
Industrial line 650 – OBR40
New industrial line 200-400 Convection Cooling
Industrial line 200 – CBN43
Industrial line 250 – CBN44
Industrial line 300 – CBP45
Industrial line 400 – CBP46
Founded in 1974, with headquarters in Sweden and local operations in 15 countries on four continents, Powerbox serves customers around the globe. We focus on four major markets – industrial, medical, railway and transportation, and defense – for which the company designs and market premium quality power conversion systems for demanding applications. Our mission is to use our expertise to increase our customers' competitiveness by meeting their entire power needs. Every aspect of our business is focused on that goal, from the design of the advanced components that go into in our products to our customer service. Powerbox is recognized for technical innovations that reduce energy consumption and the company's ability to manage the full product lifecycle, minimizing environmental impacts.
Contact us for more information
Or find you nearest Powerbox office here.
Download as PDF:
PRBX_Industrial_150-650_DK_PR_151022 (Danish)
PRBX_Industrial_150-650_BNL_PR_151022 (Deutsch)
PRBX_Industrial_150-650_DE_PR_151022 (German)
PRBX_Industrial_150-650_FR_PR_151022 (France)
PRBX_Industrial_150-650_IT_PR_151022 (Italian)
PRBX_Industrial_150-650_NO_PR_151022 (Norwegian)
PRBX_Industrial_150-650_SP_PR_151022 (Spanish)
PRBX_Industrial_150-650_SE_PR_151022 (Swedish)
PRBX_Industrial_150-650_ENG_PR_151022 (English)